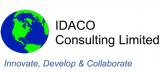 IDACO Consulting Limited
IDACO Consulting Limited
IDACO Consulting Limited is a solution-oriented consultancy with a specific focus on supporting companies in the Pharmaceutical, Biotechnology, Medical Device, Life Science and Healthcare sectors.
The IDACO Team bring together pre-clinical and clinical expertise, along with an extensive network of academic, outsourcing and commercial contacts, to support the development and commercialisation of bio-pharmaceutical products and medical devices.
IDACO Consulting also has the capabilities to undertake projects involving healthcare including the optimisation of healthcare services.