Nanomerics Ltd
Nanomerics Ltd is a speciality pharmaceutical company based in London, UK. Nanomerics was spun out of University College London, a top 20 global university and was founded to commercialise the Molecular Envelope Technology (MET) developed in the UK academic sector. Nanomerics' MET enables the transport of drugs across key biological epithelial barriers and this allows Nanomerics to create uniquely differentiated products, underpinned by high quality science. Nanomerics' MET recently won first prize in the prestigious Royal Society of Chemistry Emerging Technologies competition.

Nanomerics has out-licensed NM127, an enkephalin-based pain asset to Virpax Pharmaceuticals and NM133, a dry-eye asset to Iacta Pharmaceuticals. Both of these assets are powered by Nanomerics' MET. Nanomerics has a pipeline of assets that have the potential to offer significant patient benefit. Nanomerics is committed to a world where patients receive the best medicines possible for their conditions.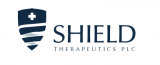 Shield Therapeutics plc
A de-risked commercial stage pharmaceutical company with a focus on addressing iron deficiency via its lead product Ferric Maltol, marketed in the EU as Feraccru® and approved in the US and will be marketed as Accrufer®.
David Childs
Director of Product Supply & Commercial Alliances