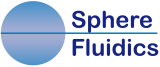 Sphere Fluidics
Founded in 2010, Sphere Fluidics is an established Life Sciences company, originally spun out from the University of Cambridge. We initially developed 25 patented products – biochips and specialist chemicals – which currently assist hundreds of customers globally with their research.
We initially focused on producing novel biochip systems and providing R&D services. We have since extended our expertise and are developing a technology platform that enables discovery in a range of growing markets through single cell analysis. Our systems make the development of new biopharmaceuticals faster and more cost-effective, improve monoclonal antibody screening, cell line development, and overall research efficiency in a number of other applications including synthetic biology, single cell diagnostics, prognostics and single cell genome editing.
The Cyto-Mine® Single Cell Analysis System is our flagship product – the first integrated, benchtop system to automatically analyse, sort and dispense millions of individual cells in just a single day.